On Cover Article
How to Remain a Happy and Effective Leader After Inheriting a Staff of Unhappy Employees
Ty Howard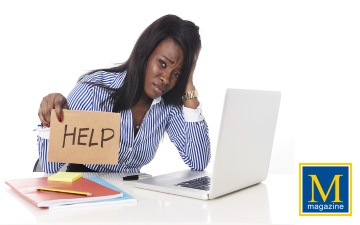 "Treat employees like they make a difference and they will."
– Jim Goodnight, CEO, SAS Institute, Inc.

You and your team are getting along fine. Your numbers are up high, turnover is low and your team morale is envious within the company. Suddenly, you get a call from your executive leader. She informs you that Joe, who was the manager of a dysfunctional and low morale plagued department within your organization, has just been fired for poor performance.

Instead of being resistant about this new change, why not look at it as an opportunity to turn the situation around? As a courageous opportunity to give yourself and your newly inherited team permission to stretch, grow, and continuously succeed.
Here are five strong ways to remain a happy and effective leader after you've inherited a staff of unhappy employees.
1. Take time to be still before your day starts.

Before waking up, sitting in traffic and jumping right into your new challenge, wake up early if you need to in order to give yourself some quiet time. You can use this time for prayer, meditation or for personal development such a reading motivational books. This will help clear your mind and keep you more focused as different challenges arise throughout the day.

2. Write out the specific outcomes you desire to happen for each tasks.

Being that you have inherited an unhappy staff, you are going to need to make some changes and you may not be popular, but you still have a job to do. The way to minimize distractions is to figure out each task that needs to be performed and then determine what the outcomes should be for each task. As you accomplish each one, you and your staff will feel more accomplished and more positive about moving on to the next task to be completed.

3. Figure out who is "the leader" within your staff the unhappy employees gravitate to.

Usually there is a ring leader within the group or a more dominant alpha person who may silently (or loudly) be running the show. Sometimes this person may be willing to speak for the silent majority. Determine who this person is and find out what their take on the situation is. They may be willing to share with you some key ideas to turning the whole situation around that the previous leader ignored or refused to put in place.

4. Create a few 'fair' incentive programs.

Once you have narrowed down some of the areas for growth, why not start incentive programs where the staff can benefit from improved performance. Most people have the need to be recognized and being the winner of company sponsored contests can inspire struggling and unhappy team members to continuously improve their performance.

5. Encourage open and professional dialogue of your staff.

In addition to soliciting information from the ring leader, create forums where all the employees are able to voice their opinions and offer suggestions in a professional and productive way. This will open the lines of communication as well as build the trust level since you are the new leader in the environment. Another good tip is to setup a suggestion box where team members can leave their ideas without being ridiculed by the larger group. Your newly inherited team members may have some great ideas but they must be encouraged to share them.

Being a good leader and remaining happy and effective in your own life can be a challenge. Using these five personal and cohesive team building techniques can help keep your stress level down and the morale of your team high. Eventually, you will be happy to say you turned an ugly situation into a more desirable, productive, successful, and winning one for the good of the entire organization.
---
About the Author:

Ty Howard is founder, CEO and editor-in-chief of the online magazine, MOTIVATION. He is an internationally recognized authority on personal, professional, relationship and habits development. He's also the creator and lead facilitator of the trademarked Untie the Knots® Process, and the author of the best-selling book Untie the Knots® That Tie Up Your Life: A Practical Guide to Freeing Yourself from Toxic Habits, Choices, People, and Relationships, as well as dozens of published articles on relationships, success habits development, empowerment, and peak performance worldwide.

For information on the author click on the following link: Ty Howard.