On Cover - Featured 1-On-1 Interview
Jewel Diamond Taylor: Intentional Living
Ty Howard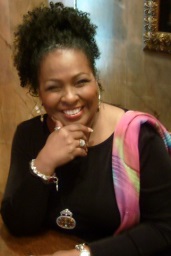 Jewel Diamond Taylor, a.k.a. "The Self-esteem Doctor," is a multi faceted messenger shining her light into the lives of countless men and women. Jewel is the Founder of Women on the Grow and The Do Not Give Up Foundation. In 1985 Jewel kicked the glass ceiling and broke ground as one of the first female African American motivational speakers. Taylor shines on the speaking circuit nationally, providing cutting-edge personal and professional development skill sets and training. Men and women are encouraged to grow beyond their obstacles, procrastination, past adversity, addictions and fears. Jewel's keynote and workshop presentations train, transform and teach others how to be emotionally resilient — to excel, enjoy and endure life changes.
She speaks to the relevant themes of life with a fresh voice and perspective blending Christian principles, wisdom, wit, depth and compassion for our human struggle to achieve salvation, success and balanced living. Jewel has facilitated countless women's retreats across the nation. As a mother of two sons, a wife of 43 years, minister, author, workshop leader and corporate conference speaker, Taylor enjoys empowering today's woman struggling with low self-esteem, depression, weight issues, stress, grief, parenting and relationships.
This Washington D. C. native, born to a gemologist, is an author, and radio personality with a passion to inspire men and women to grow outside their life box of limitation, fear, socio- economic challenges and personal setbacks.
Ty:

Jewel, thank you for allowing me the opportunity to interview you for the online Spring 2013 Issue of MOTIVATION magazine. The theme for the Spring Issue is Intentional Living: Motivation for Making "IT" Happen. My interview with you, Jewel, will carry the tone and focus on the importance of living intentionally.

Hello, Jewel! How are you today?


Jewel:

I am awesome, great, and excited to be a part of your interview today.


Ty:

I have two preliminary questions for you, Jewel. The first question is, we all have guilty pleasures, what's your favorite snack food or health food?


Jewel:

Salads. I enjoy salads, cooked vegetables, and love my fruit and vegetable smoothies, too. They keep my energy up.


Ty:

Jewel, you say you make vegetable smoothies, do you have a particular type or model of juicer or smoothie maker that you use?


Jewel:

No, not necessarily. I just take my vegetables and some fruit and put them in my blender. If I don't have time to make it up, I stop by my favorite health food store because they've really expanded their choices. Sometimes you need to be able to stop there and get their wonderful juice drinks. I love going to the health food stores.


Ty:

That's good. What's your most memorable motivating or inspiring childhood experience?


Jewel:

Let's see, as a child... I am so much different than I was as a child. As a child, I wasn't really motivated. I was really so much different, I lived in the cocoon of my own world and I realized that was my time to really discover who I was. I didn't have – somewhat a miserable childhood but was very lonely childhood. So motivation didn't really start for me until I was an adult. One of the first speakers, I heard at that time was Jim Rohn and he lit a fire under me and God bless his memory. He was very instrumental. And he made me make a career choice to leave my corporate job and take a leap of faith to become a motivational speaker.


Ty:

Now, getting into the interview questions. Jewel, my first question to you is what motivated you to become the woman and successful entrepreneur you are today?


Jewel:

In the late 80s, when I first heard my first professional motivational speaker, Jim Rohn. I was working for the Aerospace Industry, and I was totally intrigued. I was compelled. Something sparked in me to say, "I needed to do this. I want to make a difference." I would go to these events, and I wouldn't see many people of color or many women, and I realized this is the void I wanted to fill. That I wanted to make the type of impact that I felt him make on myself, as well as those around me. So it was very inspiring, and it began there.


Ty:

What brought about your brand name The Self-Esteem Doctor?


Jewel:

Well, it wasn't my choice but I found it because I am a woman, I was attracting more women in my audiences. I was being invited to speak at retreats, church conferences, and in work places meetings. I found that even though I was talking about setting goals and living with the intention of being super charged and focused; I realized that many of the women that I was interacting with really lacked self-esteem, self-confidence, and self-worth.

So, I began to tailor-make my presentations to focus on the inner-person, on dealing with their character, dealing with their courage, dealing with their boldness, and dealing with the areas where they had been wounded and lacked the confidence. I would write for websites and magazines, and do radio interviews, and the tag "The Self-Esteem Doctor" just came. I was always talking about self-esteem in all that I spoke and wrote. That's why I branded me "The Self-Esteem Doctor" because I realized that's what many people needed to hear or read so they could begin to heal. So, I would offer prescriptions to both men and women so they could heal their broken self-esteem.


Ty:

That's inspiring. Jewel, your bio read in 1985 Jewel kicked the glass ceiling and broke ground as one of the first African - American Woman Motivational Speakers. What was that experience like in the beginning of your journey?


Jewel:

Well, in the beginning of the journey there were very few women to mentor or tell me how to really navigate the water of the motivational speaking business. The podium was full of men and there were very few women. But in 1991, I was invited to speak for the African-American Women on Tour. I was with them for twelve years, and we went across the country motivating women. That was when I found the sisterhood of other women that were inspiring women, such as, Susan Taylor and Iyanla Vanzant. I was with Patricia Russell McCloud, and other dynamic women like Dr. Maya Angelou, and I found my footing. I was able to connect with other women that were also bringing inspiration and motivation. That was very nurturing and very empowering for me, and it put me on a larger stage.


Ty:

Looking back over your life, where did you struggle, fail and/or make mistakes and how did you recover and bounce back?


Jewel:

I made them in every area of my life. I married. I'm a mother of two sons. I'm self employed. I dealt with financial challenges of being self-employed. I dealt with using many loved ones; my mother to breast cancer, two months later my mother-in-law, and several family members in a short period of time. So, I had learn how to cope with severe depression. In the beginning of my career, my marriage was very rocky. M my husband did not understand this excitement, this passion that I had. So now we're on good footing and getting along pretty well. We have very healthy growing relationship but it was very difficult to really get someone to understand why you would give up your career to do something really risky, to do something that was a leap of faith.

Those earlier years brought some harmony and communication to our marriage. The early years of parenting two sons. Two black males that had their own issues with maturity, responsibility, and dealing with so many issues that I was not used to dealing with, after growing up in a house full of women. That was very challenging, and so I lend a lot of my wisdom to women on wisdom with their marriages, wisdom in their parenting. I find that some of these women who don't know how to let go of their children. I had to learn to let go of my sons. I had to learn how to find time and space for me to build my business and at the same time, balance family and career. Men never seem to ask you that question. How do I balance my family and my career? That's was a difficult balancing of act for me because you don't want to feel guilty when you're doing your work. I was doing a lot of traveling. There was just a lot of time issues, stress issues, financial issues, and relationship issues that I had to work through. Now, I look back in hindsight and realize that those bumpy roads give me the testimony and wisdom that I now share with others.


Ty:

Good. Good. The theme of the Spring 2013 Issue of MOTIVATION magazine is Intentional Living: Motivation for Making "IT" Happen. Jewel, what does Intentional Living mean to you?


Jewel:

Well, when I first heard you say that, the first thing that came to my mind was first we have to have intentional being. We have to be the person, become the person so that we can experience the material things, the casual things that we want in life. To live a certain way, we have to be this type of a person. So we have to be able to be intentional in looking at the areas where we have flaws. Where we are inconsistent, where we are procrastinating to become the person of integrity, to become the person of loving, of giving, observing, of dreaming.

To be that person of faith, to believe that you can have what you say you believe you can have or to do. When you become that person, you transform that thinking then you transform your living. So I believe that you have to start with who do I become so I can have and live out the experiences that I'm dreaming about. I love the word intentional because that means we have to become awaken and purpose-driven in that moment and time.


Ty:

Yes.


Jewel:

I wrote a book Shift Happens: The Main Thing is to Keep the Main Thing...the MAIN THING years ago, and it teaches people how to become focused and intentional. I find it interesting that one of the greatest things that people allow to steal their joy and steal their time and energy is procrastination. And if you're going to be intentional, you have to overcome the stronghold of putting things off, trying to do too many things at one time, or trying to please everyone all of the time.

To be intentional, I believe you have to have your goals set. You have to put up and live up to your vision. You also have to get into your left brain and become a strategic planner. You have to make sure that you watch the relationships and associations that you have around you. If you have the wrong people around you, you could easily become derailed and distracted and become demotivated. So, in being intentional, I have to guard the relationship around me. Otherwise, I will become very distracted, and later may feel stuck.


Ty:

When it comes to staying motivated and making "IT" happen, who helped and influenced you most in life?


Jewel:

Well, I learned that it is important to allow yourself to like people. You know, a lot of people don't like people. I developed over the years, what I call "Women of the Globe," a circle of twelve women, and we support one another. We're like a master mind group. I go to them, they come to me, we go to one another for continual support , development, and growth. I noticed that a lot of people I've helped or encouraged were stuck in isolation. Their mindset is, "I do it myself. I do it all by myself." Or the extreme, "This is what life had planned for me."

I had to work through a lot of different relationships. Now, the people that I engage and involve in my life are positive and vibrant people. I love the book Who's Holding Your Ladder? by Samuel R. Chand. I think that's a great metaphor in life that you have to be very mindful of the people who are holding your ladder. So over the years, some very instrumental people have come into my life which is the reason that I'm still here. But I'm very mindful of people that I allow to mastermind with me, that can support me, and that can influence and encourage me.

I'm also making sure that I am consistently doing it for others. Life is not just to produce for me but also who can I support, uplift and encourage. It becomes the way to live intentionally. The people that are close to you, that can encourage you, and also see your world, your values and greatness. Because sometimes we don't or cannot see it for ourselves. These are the people that I have intentionally engaged in my life and on my life team, to hold my ladder.


Ty:

Jewel, what do you feel are the top three reasons why people do not stay motivated long enough to make "IT" happen?


Jewel:

I think a lot of it, especially in today's time, people are engaged in business and they want to escape the stress. They want to escape the pain. They want to escape the work that it takes. You know, like standing before an audience, whether it's thousands or a few. It took a lot of behind the scenes work to make that happen. And there are a lot of setbacks, disappointments, struggles, bags of surprises, and every time you come up against those walls, you have to motivate yourself to keep moving forward.

Many people today want the good and the glamourous. They want just the public flashy side of it but they don't want to do the hard work. So people tend to want to escape whether shopping or drinking or overeating or playing the blind game, or just electing to stay in snoozeville (in bed all day). You have to be able to push beyond the pain. That's the first thing.

I think the other thing is sometimes people don't see their own work. And the minute they are met with discouragement, a setback, or they hear a No, they stop. I find people want to give up too easily. I love that scripture that says "Be not weary in your wrongdoing. Once succeeded, you will be harbored. But you do not give up." And that's my favorite foundational scripture, and is why my website is DoNotGiveUp.net. So I can encourage people to not give up and be weary. That's the second thing.

I believe that society has designed several things to please and make us lazy. You have to guard not only your heart but you have to guard your health. If you don't have health and energy, it's very easy to become weary and discouraged and have to deal with a lot of health issues. And therefore, you don't have the energy to go out to your dream, to be motivated or inspired about anything. It takes tremendous energy to go after your dream, to build your business, or to live intentionally. To build your ministry, to build whatever it is you truly want. It takes tremendous energy and stamina. Another equally important thing, my two-for-one, would be guarding your health. That's the third thing.

There you have it. The first one is the procrastination escape. The second is not giving up. And the third thing is taking better care of yourself to avoid health issues. I believe that all three are very paramount and critical in living intentionally and staying motivated to making "IT" happen.


Ty:

What two books would you recommend for our readers to read so they can learn how to live intentionally and make "IT" happen? And why?


Jewel:

I would certainly recommend my book, "Shift" S-H-I-F-T. Shift Happens: The Main Thing is to Keep the Main Thing...the MAIN THING. I address all the things that we are discussing in our interview here, in that book.

Second, I would recommend any of John C. Maxwell's books because I believe leadership is the key to living intentionally and staying motivated to making "IT" happen. You have to set yourself as a leader. John Maxwell is the current leading authority on leadership and leadership development.


Ty:

Jewel, what's the best way for our readers to contact you, and learn more about you or about your products and services and all?


Jewel:

Thank you, Ty. The MOTIVATION readers can certainly go to my website http://www.DoNotGiveUp.net. My email address is jewel@donotgiveup.net. And my business phone number is (323) 964-1736. I'm also on twitter and Facebook. Look me up and follow me, greatly appreciated MOTIVATION readers.


Ty:

Thanks for sharing your contact information. Jewel, tell us about The Women On The Grow and The Do Not Give Up Foundation.


Jewel:

Yes. That is my baby. That is my passion. I realized that was my main focus was for serving women and families. And so by doing that formed both The Women On The Grow and The Do Not Give Up Foundation. They are designed to empower and encourage women, especially single mothers and women dealing with adversity. Giving women the resources and the tool so they can move beyond adversity and poverty, abuse and any type of trial and tribulation that land in their life so that they don't fall and stay down—but they get back up and live a more productive life.

Women On The Grow is an organization that I have. We have retreats, conferences and immersions, and productive experiences that help women to get away and heal. Women get empowered and have a chance to connect with me and connect with other women that are growing naturally, spiritually, emotionally, and socially. We provide resources and tool for women so that they can become more productive and happy in their relationships, parenting, emotional intelligence, and for developing and pursuing their purpose in life.

When we are emotionally intelligent, we can respond to life, the institute of life. Be it losing your home or losing your job or losing a child. We enable and support women so they can bounce back and still be productive and loving spirit-filled people. This is what we do. I do this nationwide. It's become a great mentoring experience for women. It's also become a great opportunity for women to come together and connect with one another. We often discover that we all are women of like experiences who don't want to isolate ourselves, and don't want to escape our self responsibility and self motivation.


Ty:

That's definitely inspiring. Now, what are the websites for the Women On The Grow and The Do Not Give Up Foundation?


Jewel:

We have one central location. It's all of it found on http://www.DoNotGiveUp.net.


Ty:

Jewel, when you look out at the young people in the world today, what do you feel are two effective strategies parents can teach their children right now to help them to better prepare to live with positive and productive intentions?


Jewel:

I think it's very important for parents to become more engaged and involved in their child's education. I speak to many schools each year, and I find that lack of participation of parents in their child's educational experience to be very disheartening. It's almost like they are making the school the babysitter and they give all the parenting responsibilities to the school. So, I would say to the parents, "Please get engaged and tirelessly involved in your child's educational experience. Understand how important your presence is in being available to your child when he or she is going to the school: you monitoring their homework, monitoring their strengths and weaknesses, and monitoring other things that may distract or hinder their learning and development."

Yes, technology is very, very important but we also want to get back to cultivation. Living life in arithmetic. If they become technology lazy and they can't think for themselves, then they can't be critical thinkers. They can't work through the decision making process to make healthy choices throughout life. Parents need to be interested and committed. And we want to make sure that parents are still in their child that they can do anything and to promote the idea of going to college. Promote to them the idea that without a good college education they will miss a particular skill, and might struggle or go under-developed.

Parents assist your child in helping them to see and celebrate their work. Because if you interview anyone that is successful, they will tell you that, "My parents told me I could be anything that I wanted to be. My parents believed in me." Just believing in your child can make and be THE DIFFERENCE.


Ty:

Yes!


Jewel:

I also encourage the parents to encourage your children to read. Go to the libraries. Encourage them to pick a book. My parents would pay me – I can't recall exactly how much. I just read one book after another, and now I'm an avid reader. I had no idea. At an early age, you know, my parents would actually pay me to read every magazine and newspaper brought into our house. Being able to read confidently will take and gain your child amazing opportunities in life. When you have illiteracy, it takes away a child's / person's confidence. They don't speak well. They don't feel good about themselves. They cannot read and often cannot write. They are definitely going to struggle and play life small.


Ty:

Jewel, I have two final questions to conclude our interview. What motivates Miss Jewel Diamond Taylor to live intentionally and make it happen each day?


Jewel:

I'm kind of automatic now, it tends to come very naturally. I love nature and nurture but once you experience the joy, The Lord, the freedom, the blessing of following your heart's desire, your dream, your purpose, your... what shall I call it, your spiritual assignment. When you are able to take that and feel that and experience that—that is an addiction I can live with. That's something I have to contain to pursue because I see every bit of it; I see the war and the impact on other people's lives.

Whenever I feel myself and my image losing motivation, I call on and spend more time with The Lord. I dream by myself that my life's work has nothing to do with me. It has to do with the people that I'm able to inform and impact. And it's not to put myself on a pedestal but I believe that God uses everyone and I know that in the way that I can be used in a positive way. I don't ever want to lose that because I think it is being part of the solution instead of being part of the problem that needs to be in the world.

I want to be a part of the solution. I think there are still many people who are looking for the money and for power. For me, I am always strongly driven to look for meaning, and to be of service. As I look for meaning, all other things to follow. So now that is just the part of my being. I get up in the morning, and I still need to work. I go to school thinking about it. I was once looking for other things that were disturbances to my blessings. I'm always looking for ways that I can reinvent myself because the whole motivational movement, you know, has definitely evolved and changes since I first started.

Each day, I look for ways to repackage myself. Ways to humbly and genuinely connect with people so they're thankful that we connected. My life today is very exciting, filled with joy, and living intentional.


Ty:

Jewel, do you have anything else that you like to share with our Motivation readers?


Jewel:

I would just like to invite them to come to my website http://www.DoNotGiveUp.net. I have inspirational music. My calendar is there. There are books and freebies that they can order. There are eBooks that they can read. I also offer one-on-one life coaching. I offer that through Skype. Most of my clients that I coach are out of state (out of California). So, I take advantage of the technology, and offer one-on-one live coaching by Skype or by phone.