MOTIVATION Expert Coach
Sylvia Baffour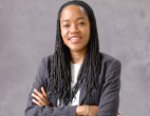 Internationally respected speaker, trainer and Life Coach, Sylvia Baffour:
teaches women how to rise to greater levels of empowerment;
coaches organizational leaders to communicate more effectively with those they lead; and
enables organizations to better handle change amidst an ever shifting business environment.
Sylvia Baffour is the creator of the Leaping Beyond BarriersTM Training System which focuses on helping people and organizations to move out of their own way and in the direction of improving their outlooks, performance, innovation, and results.

Sylvia is one of the most sought-after speakers and trainers in the fields of women's empowerment, professional and self-development, leadership and change. She has traveled to and lived in over 20 countries across the globe and speaks English, French, Ga, Setswana and Ndebele. As a result of her world-wide experience, she has acquired a remarkable ability to transcend barriers of race, gender, culture and connects well with people from all walks of life.



RSS:
Subscribe to this feed
Test & Inquire About Coaching Services
COACHING SPECIALITY

Life
Career
College Planning
Success