Professional CHANNEL
Working and Living with PASSION
Ty Howard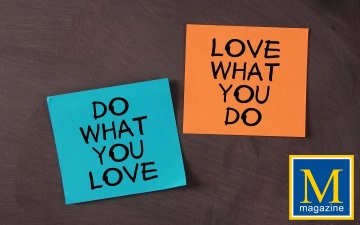 PASSION Is, As PASSION Does.
~ Ty Howard

The power of passion is surely an amazing thing. It will propel you to great heights if used correctly. Most of us associate this emotion with the way we feel, yet, it is also the 'force' behind many great individual's success. This emotion will increase your enthusiasm, focus, determination, commitment, and personal productivity. These are intense interests you will need to call upon if you plan to harness and use the amazing power of passion at work, and in life. PASSION Is, As PASSION DOES.

Almost twice a week, a person comes to me and says, "Ty, you work and live with so much passion. How can I discover and use my passion the very same way?"

If you truly want to work and live continuously with a high level of passion that will supercharge your professional productivity at work, and your personal productivity in life, dig deep on a daily basis to employ the following "True PASSION Charging Boosters" to help ensure you're enjoying and doing what you love with passion:
Energy
Passion equals enthusiasm, which in turn, is reflected within the feeling and energy you give anything you do. Obviously, the greater energy and enthusiasm you have the greater this will affect your own professional and personal productivity. This will also boost your inner strength to carry on when you sense and feel doubt, uncertainty or exhaustion setting in. You are driven by passion from within, so back your passion up with enthusiasm to awaken positive energy in work and life.
Focus
When your level of interest is high, it increases your ability to concentrate, which is something you will need to perform at your best. If great success is to ever be yours, in any area of your work or life, you will need to be able to reach a point of laser focus. Your passion for living as a successful and happy person will drive your mind towards intense focus. There is not a single successful person past, present or future that has not used the power of focus to capture and harness their passion. Always be focused as this will help you to achieve and sustain your passion in life.
Perseverance
Having passion for something you love and enjoy to do will give you the capability to keep doing it with great determination. When your patience and willingness to persist with it increases, your capacity to succeed will do the same. Remember the adage, "no pain no gain". Living your life and doing your work with passion will help you to persevere during the bad, okay, and good times in life. Do not quit or look at the pain while passing through it. Instead, lay your mind on the positive result that will be your crown at the end of it all. This will keep you going every time, and remind you how amazing life is when you choose to use the power of passion at work and in life.
Attraction
The enthusiasm you have when you have passion for something is noticeable. It enables you to be more positive-minded which draws like-minds and positive-energy to you. Having the attention and support of others now gives you additional motivation and inspiration to continue your pursuits. People love individuals that are passionate about whatever they do. Be passionate about your work and how you choose to live your life, and you will constantly attract good people and outcomes to you.

A passionate person is not exempt from the trials and tribulations of life. Yet, a passionate person still chooses to remain motivated, ambitious, and excited to always love and enjoy what they do. Let your passion drive you always. Do not get rattled if your passion keeps you working long after others have stopped; if your passion has you choosing to work and live with harmony instead of negative energy/actions; if your passion makes you keep silent when others are gossiping; if your passion won't allow you to sleep when others are busy sleeping. Whatever you put into life, life will give back to you. Your passion is ultimately your gateway to the best you ever. If you work and live life - daily - with great passion—better health, enjoyment, positive thinking, relationships, success, and happiness will soon welcome and thank you repeatedly for your decision to live amazingly through the power of passion. PASSION Is, As PASSION DOES.
---
About the Author: Ty Howard,
President, Publisher and Editor-in-Chief of MOTIVATION magazine
Ty Howard is an internationally recognized authority on personal, professional, relationship and habits development. He is the creator and lead facilitator of the trademarked Untie the Knots® Process, and the author of the best-selling book Untie the Knots® That Tie Up Your Life: A Practical Guide to Freeing Yourself from Toxic Habits, Choices, People, and Relationships, as well as dozens of published articles on relationships, healthy habits development, empowerment and peak performance worldwide.

For information on the author click on the following link: Ty Howard.
The MOTIVATION "Key Takeaways" for this article:

Working and Living with PASSION

PASSION Is, As PASSION Does. ~ Ty Howard

The power of passion is surely an amazing thing. It will propel you to great heights if used correctly.

If you truly want to work and live continuously with a high level of passion that will supercharge your professional productivity at work, and your personal productivity in life, dig deep on a daily basis to employ the following "True PASSION Charging Boosters" to help ensure you're enjoying
and doing what you love with passion:

Energy - Passion equals enthusiasm, which in turn, is reflected within the feeling and energy you give anything you do.

Focus - When your level of interest is high, it increases your ability to concentrate, which is something you will need to perform at your best.

Perseverance - Having passion for something you love and enjoy to do will give you the capability to keep doing it with great determination.

Attraction - The enthusiasm you have when you have passion for something is noticeable. It enables you to be more positive-minded which draws like-minds and positive-energy to you